The good news is I am around halfway through my archive of pictures. The less good news is I am in the last 20% or so of space on my Photobucket account, but I think I have a Flickr and Picassa account around somewhere I can use as well.
I did not take many pictures yesterday, just these grab shots of Timmy and Harpo sharing a chair :
This one is a little over exposed.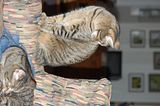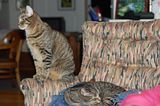 Need blue eye reduction again.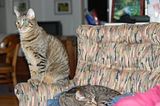 I did do some shooting today, but not digitally. I finished up a roll of expired Kodak "High Definition" 400 film (I know I should stop using it, but it's nice not to pay for film...Unfortunately I know from the last roll of this I use it has very little color saturation now so it makes faded-looking pictures) as well as the last couple of exposures on the roll of Kodak Portra 160 in the Yashica Mat. Can't wait to see how they come out.
Spent some time flipping through photography books at a Borders. Saw some cool stuff. I was looking for a really neat book consisting solely of polaroids. I need to hunt down a copy...
I will be flying to see my girlfriend tomorrow for New Years and then heading back to school, so I don't know if I will be able to post anything new for a few days, but I will try.
For all three of you who read this.